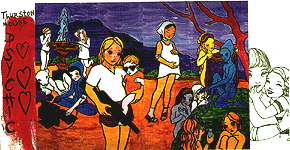 Psychic Hearts Cover

Thurston Moore

Beside his work for Sonic Youth
Thurston Moore is involved in many
many side projects. For these side
projects he often teams up with lesser
known musicians, for instance Tom
Surgal and Nels Cline.

So far Thurston has only produced one real
solo album. Because most of his side-
projects are instrumental this is the only album listed here.

The wonderful artwork used on the cover of this album is a photo of a stained glass
window. The window was made by Rita Ackermann..