Dear Sir !
1995, runt
* Headlights [Ra 136kb]

Myra Lee
1996, Smells Like Records
* Rockets [Ra 106kb]

What Would The Community Think
1996, Matador Records

Moon Pix
1998, Matador Records
* Review

The Covers Record
2000, Matador Records
* Review

Passion of Joan of Arc

Cat Power Links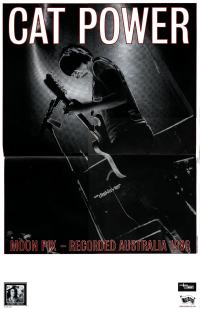 Cat Power Promo Poster

Cat Power

Cat Power is the name of Chan Marshall's band.
The first three records that she released were
done together with Steve Shelley of Sonic Youth
and his Two Dollar guitar friend Tim Foljahn.

After Cat Power's third album What would the
community think, Chan quit the music business
for a while. Her latest record Moon Pix was
recorded early 1998 together with Jim White
and Mick Turner of the Dirty Three.

The current line-up of Cat Power is Chan and
her friends Mark Moore and Chris Lopez. At
some of Cat Power's shows Joe Dilworth of The
Faith Healers drums instead of Chris.





Cross Bones Style Excerpt

The music of Cat Power is very intimate and personal yet
also universal in spirit. Listening to Cat Power can either be
an experience of recognition or a bewildering confrontation
with an alternative perspective on life.

The songs have an unsettling degree of honesty about them.
Unfortunately this can also provoke a sceptical reaction in an audience unwilling to confront personal doubts about their
own honesty.

Sometimes Chan's discomfort at being exposed to such an environment in her role as a
performing artist can be all too obvious. Far too often judged by her behaviour in this role,
I can assure you that in real life she's one of the most generous people you could ever
meet.


Listen to an interview with Chan and Cat Power playing live at: Brave New World Net