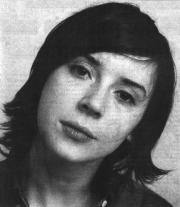 Thurston Moore
Profile
Kim Gordon
Profile
Lee Ranaldo
Profile
Steve Shelley
Profile
Chan Marshall
Profile
Chan Marshall

Most likely, Chan Marshall was born in 1972 (her star sign is Aquarius). In her youth she
lived 'all over' Georgia, Memphis and Tennessee and North Carolina with 'different people'.
Her father was a musician and for a while Chan lived with a band called mother's finest.
Following the divorce of her parents she lived mostly with her mother. While moving around
Chan attended 12 different schools but dropped out of school altogether at the age of 16.

After dropping out she moved to Atlanta, Georgia and lived there with her father. It was there
that she started to play guitar and formed a band together with some friends. This was only
for a short time because Chan realized she prefered to write songs over playing live. The idea
to call herself Cat Power came from a Cat Diesel Power hat that she once saw. In 1992 at
the age of 20 Chan left Atlanta to move to New York City with her friend Glenn.

The first two years in New York were real difficult for Chan. Glenn moved back to Atlanta
soon after they had arrived and beside one other friend she did not really know anyone there.
Together with Glenn she had done some small shows but after he left she could not imagine
herself playing alone and for about 10 months she stopped performing altogether.

In 1993 Chan released her first record Headlights / Darling Said Sir on the Making of
Americans label. It was mainly through the efforts of her friends that she found herself playing
her first solo gig at CBGB's Gallery as support to God Is My Co-Pilot in April 1994. Later
at a show that year she opened for Liz Phair and the Raincoats at the Academy. Steve
Shelley was also there together with his two-dollar guitar friend Tim Foljahn. They met up
with Chan after the show and expressed an interest in working together with her.

In September 1994 Chan first performed together with Steve and Tim. A recording session
followed at Mott Street Space studios in December of that year. Eight songs went on a
record titled Dear Sir which was released by Runt in Italy in 1995. It was a year later that
the other songs were used to make up Cat Power's first real album Myra Lee which was
released on Steve's label Smells like Records.

Chan was quite upset over the criticism that Cat Power received because of these two
releases. She herself did not seem to be pleased with the sound of the record. In her opinion
this was mainly due to her lack of experience with the recording process. She was spent
much more time getting the mixing right for her next album What would the Community Think.
She recorded this for Matador at the Easley Studios in Memphis during February 1996.

After the recording session which had taken a lot out of her she moved to Portland, Oregon
for a while to get some rest. During her stay there she released a cover of Thurston Moore's
Psychic Hearts on Underground records. This was probably a lot easier on her because
she enjoys singing covers of songs which she likes herself. She has also covered Hank
Williams, Bill Callahan (Smog), Peter Jeffries, Beck and Bob Dylan.

Eventhough Chan has toured a lot since the release of What would the Community Think,
she still feels uncomfortable being exposed on stage. Some of the shows that she did enjoy a
lot where done together with the Dirty Three. This co-operation culminated in the recording
of Cat Power's latest album Moon Pix which she recorded together with Dirty Three members
Mick Turner and Jim White.

Beside being a singer/songwriter Chan also likes painting, photography, travel and swimming.
Her musical preferences include Sonic Youth, Jesus Lizard, Fuck, the Rocketeers, Can and
Leonard Cohen.

Click to see the Catpower Lyrics.