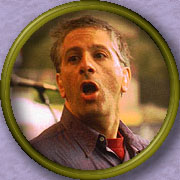 Thurston Moore
Profile
Kim Gordon
Profile
Lee Ranaldo
Profile
Steve Shelley
Profile
X-Drummers
Profiles
Chan Marshall
Profile
Lee Ranaldo

Lee Ranaldo, born 3 February 1956, Glen Cove, Long Island, New York. Studied at
State University, Binghamton. With his student friend David Linton he started a band called
the Flucts. In 1980 Lee began to work with Glen Branca. Around that time he also formed
Plus Instruments with Linton and Truss de Groot. Beside his guitar playing and song writing
for Sonic Youth, Lee also writes Beat Poetry. Near Here and Road Movies are two of his
publications. He has also released the solo albums From Here to Infinity and East of Jesus.
Recently Lee has published material to do with John Cage and poems by Jack Kerouac.
Furthermore he has been active as producer for bands like Babes in Toyland.