Thurston Moore
Profile
Kim Gordon
Profile
Lee Ranaldo
Profile
Steve Shelley
Profile
X-Drummers
Profiles
Chan Marshall
Profile
La Fayette Street, New York City








The Story of the Sonic Youth - The Early 80's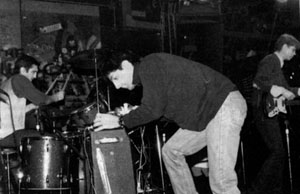 Sonic Youth formed in 1981. Their first
show was at the noise festival in New
York that year. This was the only show
that Ann DeMarinus was in the line-up.
Richard Edson of Konk did the drumming
for the band. Around that time Thurston
got to know Glenn Branca who was one
of the most important experimental artists
at that time. He introduced Thurston to Lee
who had been playing with Glenn. Sonic
Youth's first record the Sonic Youth EP
was released on Glenn's own label Neutral Records. Everyone, including the band members,
were amazed how well the record came off, considering the limited time and budget that was
spent on it. In 1983 Sonic's second album Confusion is Sex came out. In an interview with
Guido Chiesa (journalist + friend of the band) Kim says: 'our music changed a lot since our
first record...our second Lp, [CIS] is more what we are, more emotional'. The bands per-
formance on stage certainly was very wild and energetic. Of this Thurston says: 'it's a way of
throwing out all your inhibitions, knocking down all barriers to emotion'. Jim Sclavonous
took Edson's place behind the drums for Confusion is Sex.