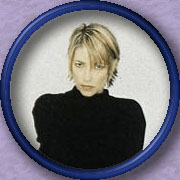 Thurston Moore
Profile
Kim Gordon
Profile
Lee Ranaldo
Profile
Steve Shelley
Profile
X-Drummers
Profiles
Chan Marshall
Profile
Kim Gordon

Kim Gordon, born 23 April 1953, in West L.A. Studied art at Santa Monica College for
two years, transfered to York University, Toronto but returned to L.A. to Otis College for
Art and Design. She had an interest in modern dancing but became more and more drawn to
Art Rock. When Kim was in New York in 1980 she first experienced the No Wave scene
there. She decided to move there. Having a keen business sense she also took it upon her to
manage Sonic Youth at first. In 1984 she married Thurston Moore. Beside being Sonic's
bass player she has also been playing the guitar more often. She does this on much of
Washing Machine. Kim is also a member of Free Kitten and she runs her own clothes
company X-Girl in L.A..